ROCKLAND'S OLDEST LUMBER YARD.
BECKERLE LUMBER
ROCKLAND COUNTY NY.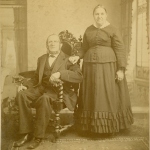 Where it began - 1859
To make a new life for themselves, in October of 1859,
Johann Beckerle (b.1812-1897) with his spouse,
Margaretha Bardon Beckerle (b.1814-1895) and,
all of their living children: Conrad(16), John (15)*, Katharina(10), Philip(5), and Barbara(3), left Hessloch, their small farming village in Germany, to start a new life in America. Sailing from Hessloch Rheinhesse Germany in October 1859, aboard the steamship BAVARIA, they arrived in New York on November 03 1859.
(*NOTE:John is NOT on ship manifest)
Conrad (b.25 Dec 1842-d.30 March 1931) the eldest son, moved on to Scranton Pennysylvania, and started a family of his own. John (b.25 Jan 1844-d.10 Aug 1907) fought in the Civil War and then moved to California where he ended up owning a small fruit farm in Lemoore CA in 1892. Philip (b.15 Feb 1854-d.7 Jan 1939) who was five at the time, settled in Pearl River with the rest of the family. Both sisters remained settled in Rockland. Catherine (b.20 Aug 1849-d.14 Jul 1931) married Laurence Sauer and Barbara (b.28 Dec 1856-d.25 Mar 1948) married Louis Maurer. See Beckerle Family History.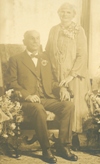 Philip Beckerle
Young Philip received his first schooling in Nanuet and later in New York City. While still in his teens he started the wood cutting business, cutting cord wood for the wood burning locomotives. He later sold wood for the railroad ties to the approaching railroad. The laying of the tracks through Pearl River, then known as Middletown and later as Muddy Brook, took place in 1870. At this time there were thirty two families dwelling in Middletown (Pearl River). He married Pauline Miller (1861-1933) and settled down to a productive life in a growing Pearl River.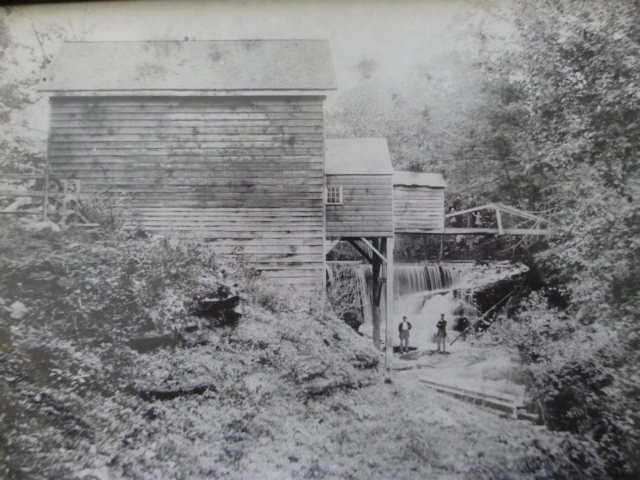 Some of his other notable achievements included being on the committee which laid out the wide streets of Pearl River. He was also one of those responsible for building the original Catholic church in town. His immediate family included three daughters. Miss Margaretta Beckerle (1890-1976), Miss Anne Beckerle (1897-1967). Anne worked for a time as a nurse for the radio city music hall rockettes! and Sister Mary Pauline. He also had five sons. John P., Laurence T., Alfred, Joseph, and George (co-inventor of the automatic pin setter developed by AMF)., In 1940, a year after Philip died, Laurence started Beckerle Lumber.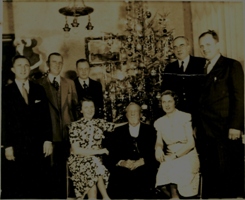 The start of something big
In 1940, when Laurence Thomas Beckerle was 52 years old, he decided to risk everything and have a go of it on his own. He started Beckerle Lumber. Of course he realized he wasn't really on his own. The secret to Beckerle Lumber's past and continued success, lies with the people who have, and who are, currently working here. Inventory, facilities, equipment, while all these are required assets necessary to run a business, the key to success is the people who work in the business. Throughout all it's years, Beckerle Lumber has never lost sight of this vision, that its the people that matter most.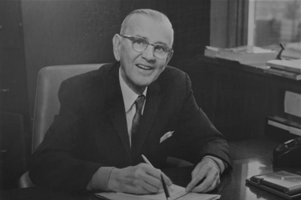 Beckerle Lumber's VISION: 'Its the people - stupid!'
Beckerle Lumber is a building material supply and full-service hardware store with six locations throughout Rockland County, New York . Beckerle Lumber is the only name you need to know for all your home improvement projects. For over 75 years, our customers have been counting on Beckerle Lumber for quality products, knowledgeable advice, friendly service and prices that compare favorably with the large chains,the Big Box retailers and the Internet.

If you are interested in familiarizing yourself with our products and viewing our stain color charts, follow the "products" link. Also, if you want to find out more about our services that we provide, please follow the "service" link. If you want to find useful information on how to build, repair, and maintain your home and any other job, visit our "how to..." section. To visit other useful related web sites, checkout or " links" section.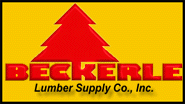 Beckerle A Family Tradition
Supplying ALL your Home Improvement needs:

www.beckerlelumber..... MISSION: To Continue to be The BEST Building Supply Company In Rockland County New York.... Beckerle Lumber Supply Co., Inc. 2017 © .... Thanks for coming!

A Family Tradition Since 1940



Contact Us

Beckerle Lumber Supply Co. Inc. with four locations to serve you: Spring Valley · 3 Chestnut Street ·NY 10977 ·FAX (845) 356-1620 ·PH (845) 356-1600 Congers · 79 Lake Road · Congers, NY 10920 ·FAX (845) 268-6152 ·PH (845) 268-9248 Orangeburg · 219 Rt. 303 · Orangeburg, NY 10962 ·FAX (845) 359-4659 ·PH (845) 359-4633 Haverstraw · 59 Westside Av · Haverstraw, NY 10927 ·FAX (845) 942-4148 ·PH (845) 942-1492

More...