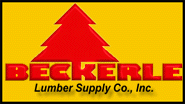 HELP BECKERLE LUMBER STRAIGHTEN OUT THE STORE in HAVERSTRAW
AND POSSIBLY GET A FREE QUART OF BENJAMIN MOORE PAINT FOR YOUR TROUBLES....
What is wrong with this picture?
What doesn't belong?



Be the first to come into the Haverstraw store.
Find where these items are.
Tell Stephen Beckerle where they are and what doesnt belong and .....
If you are the first person to do this, We will give you a free quart of "BEN" paint.
.....10/20/09....no winners yet!
Not valid for employees or relatives of employees (or friends of employees!) subject to approval


Beckerle lumber a family tradition since 1940.