Beckerle Lumber Services
Convenient locations.....but.....don't worry we deliver.


Delivery (Flatbed, Dump truck, Boom truck, Fork Lift truck, Box truck, Pickup truck, Van, Car, Bob Cat, bicycle?) Just tells us WHAT, WHERE, and WHEN you want your delivery.
Order Preparation CALL, FAX, or EMAIL your orders for Pickup or Delivery
Showrooms
Kitchen Design
Special OrderingWe Specialize in Special Ordering
Glass Cutting

Propane Filling ( Orangeburg and Haverstraw only)
Kerosene Filling ( Orangeburg and Haverstraw only)


Hay Delivery
Cut and Rip Lumber
Paint Mixing, Paint Matching

Tool Repair
Rekeying , keying alike, and key cutting
Blueprint Take Offs
Estimating
Millwork Shop
Door Installation
Window Installation
Cabinet Installation
Provide FREE Advice
Nice place to stop by for some FREE coffee
If you cant stop by our stores we have an e-STORE which is available 24/7
We also have an e-MOULDING catalog available 24/7
Tell us what you want to Build/Fix......we will try to help you - DO IT!
Tool Box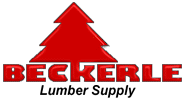 ---
---

A Family Tradition Since 1940



Contact Us

Beckerle Lumber Supply Co. Inc. with four locations to serve you: Spring Valley · 3 Chestnut Street ·NY 10977 ·FAX (845) 356-1620 ·PH (845) 356-1600 Congers · 79 Lake Road · Congers, NY 10920 ·FAX (845) 268-6152 ·PH (845) 268-9248 Orangeburg · 219 Rt. 303 · Orangeburg, NY 10962 ·FAX (845) 359-4659 ·PH (845) 359-4633 Haverstraw · 59 Westside Av · Haverstraw, NY 10927 ·FAX (845) 942-4148 ·PH (845) 942-1492

More...