How to Install Gutters
Tools, Components, Parts, etc. needed...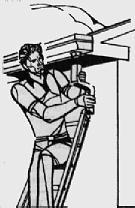 Determine the total footage of gutter required and exactly how many component parts you will need.

Place all the gutter pieces and fittings on the ground, corresponding to the positions they will occupy when assembled and attached under the eave of your roof.

A slope of about 1" for every 16' of gutter is necessary to provide good drainage. To determine the correct slope for each run of gutter, use a long level. You can easily set the slope by allowing 1¼" fall for every two 10' lengths of gutter.

Before attaching the gutter, mark the nailing position on the fascia of the house, then check the fall with your level.

Begin your installation by attaching the gutter at the end or corner of the house. Affix the end cap (left or right hand) to the end of the gutter and seal into place before hanging. If starting at corner, attach the inside or outside mitre to the first length of gutter before hanging.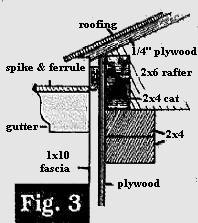 Refer to Fig. 3 for details on how to attach gutter under the eave of the roof. Use spikes, ferrules, fascia brackets or strap hangers to attach gutter.
Wherever a downspout is needed (usually at the end of corner of the house), insert an end piece with an outlet. If you are using spikes and ferrules, or plain ot wraparound strap hangers, space them about 2½" apart in the gutter run. For extra support, locate strap hangers directly over roof rafters, if possible. The strap hangers should be inserted under the roofing material and attached securely to the deck.
When the first length of gutter is in place, continue assembling the components, using slip connectors at joints, and inside or outside mitres as needed.
To bring downspouts from the gutter outlet back flush with the wall, use two elbows. Insert a strainer in each downspout opening. Attach downspout to the wall with pipe bands. (Fig.1 & 2)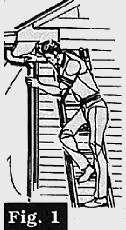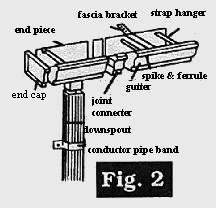 Unless your downspout runs into an underground tile system, place a shoe or elbow at the bottom to direct water out onto a splash block.

Back to How To...