Complete Guide to Contracting Your Home
Whether you want to take all the responsibility to contract your home or simply want to intelligently communicate with your homebuilder, The Complete Guide to Contracting Your Home can save you up to 30 percent or more on the cost of home construction by teaching you the practical day-to-day details of managing a construction project.

Great Garages, Sheds & Outdoor Buildings
This useful portfolio has the structures you're looking for, from the simplest of garages to wonderfully complete guest-house garages. We've also included an array of other outdoor buildings to compliment your yard, to serve as a hobby shop or home office or to house your favorite steeds. Each structure has complete blueprint packages available that include all the details you'll need to build it yourself. Regardless of whether your intention is to build a practical storage shed, a sheltering garage or a barn with full grooming and tack space, this is the project book for you!

Consumer's Guide to Home Improvement, Renovation, & Repair
While detailing the steps involved in performing repairs, this accessible guide goes beyond a simple how-to approach to home improvement. Emphasizes management of the home repair process by examining key aspects for every project--materials needed, skill level, equipment and cost analysis. Features a range of money-saving strategies enabling readers to make educated decisions on improvements, repairs and renovations with or without the services of a contractor. Contains 150+ line drawings and photographs.

Better Homes and Gardens New Complete Guide to Home Repair and Improvement
Everything you need to know to keep your house standing.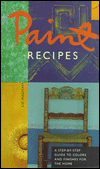 Paint Recipes: A Step-by-Step Guide to Colors & Finishes for the Home
Both an easy-to-use how-to guide and an eye-catching style book, this innovative painting manual shows homeowners, craftspeople, and designers how to create 50 beautiful paint effects--from ageing and verdigris to stippling and trompe l'oeil--in more than 150 gorgeous colors for walls, floors, ceilings, and furniture. 100 color photos.

The Complete Guide to Home Plumbing
The only book on plumbing that a homeowner will ever need, Black & Decker's guide to this often frustrating chore includes information on everything from fixing a leaky faucet to renovating an entire plumbing system. 600+ color photos.

New Remodeling Book: Your Complete Guide to Planning a Dream Project
Advice from top remodeling experts helps readers assess their needs and leads them through the process of planning additions and improvements. Approximately 450 full-color photos.

New Fix-It-Yourself Manual: How to Repair, Clean, & Maintain Anything & Everything in & around Your
In more than 3,000 instructional photos, illustrations, charts and diagrams, the New Fix-it-Yourself Manual shows you how to troubleshoot faulty appliances, repair them, and put them back together so they work as good as new. It gives you the same essential information on furniture and other household items as well, providing homeowners with precisely the time- and money-saver they need. 1,030 full-color photos.
Do-It-Yourself Plumbing
Complete, simple manual for repairing and installing every piece of plumbing in your home. Over 500 photos and drawings show how to fix leaky faucets, balky toilets, clogged drains and traps--and even how to install hot-water and steam-heating systems. 316 pages, 650 b/w illus., 7 1/4 x 9.