| | |
| --- | --- |
| | |
BENJAMIN MOORE APPLICATORS
Beckerle lumber - Lumber ONE when it comes to Benjamin Moore Applicators

When it comes to painting the exterior of your home, using the right painting tools will ensure the best results. You've finally decided to give your home's exterior a new paint job. You've already picked the paint color, but are unsure on which tools are needed to get the job done right. Using the right materials and equipment will not only make the task easier but also ensure that you'll be proud of the results and enjoy them for a long time. Surface Preparation Tools Surface preparation is crucial in painting exteriors. It is essential to have a dry, clean surface and the appropriate prep tools at your disposal. (Depending on the size of the exterior you need to prep, a power washer can be used to help clean the surface faster.) A scraper or flexible putty knife is essential in removing cracked or peeling paint. You can apply caulking compound or putty to cracks, nail holes, or other surface depressions with a caulking gun or a putty knife. You can remove powder from mineral leaching on stucco and masonry by using a steel wool or wire brush. For smoothing out imperfections, sags, drips, or runs, use sandpaper, and then remove sanding dust with a damp, lint-free cloth. Painting Tools: Brush, Roller, or Spray Gun? Once you've properly prepared the surface, you're ready to paint. Depending on the type of surface you are painting, paints may be applied with a nylon/polyester brush, a roller, or a sprayer. Spray guns cover large areas more quickly than brushes or rollers and are the most efficient way to paint most large exterior surfaces. Brushing takes considerably longer, but is ideal for windows and intricate trim work. Many professional painters use a combination of both methods, spraying to quickly get paint on the surface, followed by back brushing to spread the paint out evenly. Rollers are also excellent tools for painting large areas more quickly than brushes when not using a spray gun. They can be used for painting walls, stucco, concrete, or any other flat surface. Brushes Nylon and polyester blended brushes are the best choice for all latex paints and coatings. A natural China bristle brush is the best choice for oil-based paints, stains, epoxies, and varnishes because natural bristles will soak up the water and go limp in water-based paints. Brushes vary in size. The larger 4- to 5-inch brush is recommended for larger areas. A 2.5- to 3-inch one is perfect for any trim and corner work, and 1- to 2-inch brush is ideal for small spaces, tight trim areas, touch-ups, and detail work. Rollers Rollers can be used to apply both latex and oil coatings, and do a fine job with gloss and semi-gloss coatings. The standard roller length is 9 inches. For larger, flat areas use 14-inch and 18-inch rollers to get the job done more quickly. For smaller areas, like corners around window frames a 4-inch or 7-inch roller cover may be used. Here's a list of painting supplies you'll need to give your exterior a gorgeous and lasting makeover: Surface Preparation Tools Dropcloths or tarps Cleaning cloths Caulking gun Scraper Caulk/sealant Joint compound Putty knife & putty Steel wool Wire brush Screwdriver Sandpaper Hammer & nail set Extension ladder Dust Mask Goggles or glasses Painting Supplies Primer & Paint Paint brushes Paint roller Paint pad applicators Paint paddles Roller trays Step ladder Mineral spirits/solvents (if using oil paint)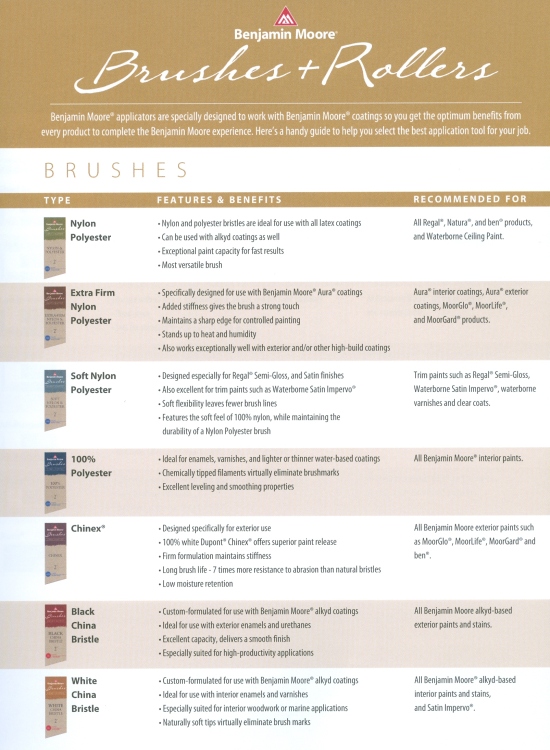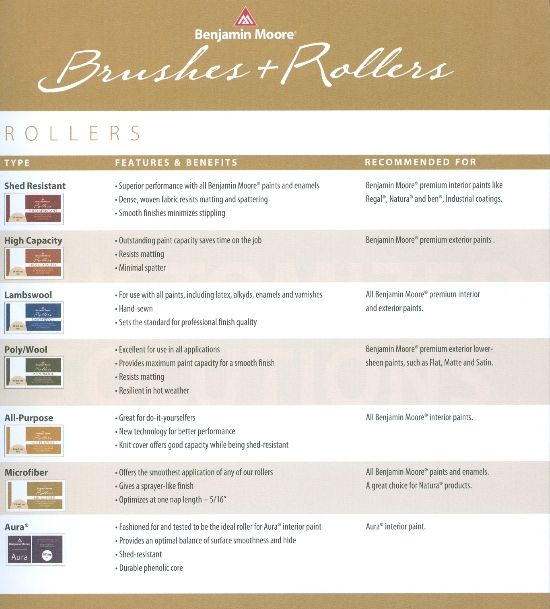 Benjamin Moore QUALITY
When it comes to crafting premium quality paint applicators, Benjamin Moore sets the standard for excellence. Benjamin Moore applicators are specially designed to work with Benjamin Moore coatings so you get the optimum benefits from every product to complete the Benjamin Moore experience. Use the above guide to help select the best application tool for your job.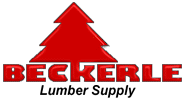 Beckerle lumber paint facilities
We have four locations that offer benjamin moore products.
Call ahead to any of our locations and we will setup your order before you arrive.
Or call for a delivery and save time and gas.
Call Haverstraw at (845)-942-1492.
Orangeburg at (845)-359-4633.
Congers at (845)-268-9248.
Spring Valley (845)-356-1600.
We would be privileged to have your business. Let us know how we can.

BECKERLE LUMBER THE LUMBER ONE BENJAMIN MOORE PAINT DEALER IN ROCKLAND COUNTY NEW YORK.
We offer a complete line of painting products including a full line of benjamin moore products. Four Convenient Rockland county new york locations.
We are easy to reach and easy to deal with.
Since 1940 we have been building on service.
We offer FREE delivery within Rockland County NY for sales over 500.00.





A Family Tradition Since 1940
---
STORE LOCATIONS
SV(845)356-1600 ·

BECKERLE LUMBER Spring Valley - Main Office ·
3 Chestnut Street · NY 10977
CC(845)268-9248 ·

BECKERLE LUMBER Congers · 79 Lake Road · NY 10920
OB(845)359-4633 ·

BECKERLE LUMBER Orangeburg · 219 Rt. 303 · NY 10962
HV(845)942-1492 ·

BECKERLE LUMBER Haverstraw · 59 Westside Ave · NY 10927
SV(845)356-1600 ·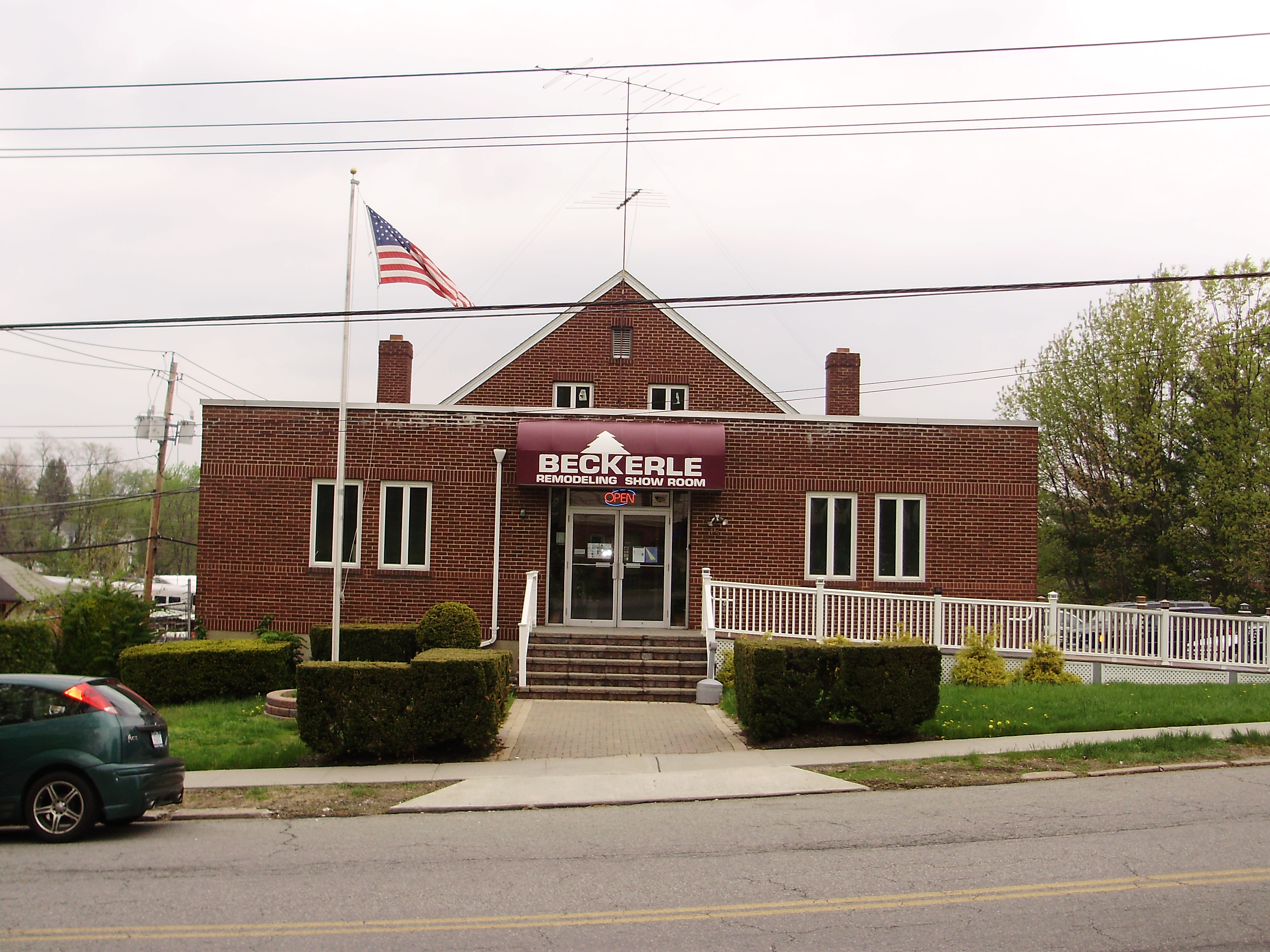 BECKERLE LUMBER Spring Valley Showroom · Corner of Chestnut & Furman · NY 10977
HV(845)942-1492 ·

BECKERLE LUMBER Haverstraw Showroom · Corner of 9W & Westside · NY 10927
---
Contact Us